Well, no.
But that's the general idea.
Night 3 found us at a nice little restaurant right past the driveway of our resort.
It was a rustically (is that not a word?) attractive, homey place…. nestled right at the foot of the Jiminy Peak Ski slopes.
Full of warm wood and earth tones, and hounds on the walls.
The drinks were nothing memorable, no specialty cocktail list and just your average margarita. (Okay, 3 average margaritas… geesh.)
But the menu was comical…
And the shrimp scampi flatbread appetizer to die for…..
It was a quiet, relaxing spot to end the day.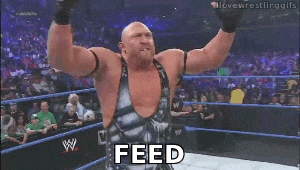 Alright already….
You people are so pushy.
Chicken marsala with whipped potatoes for me. I passed the nasty orange slop to the husband who loves squash….
A strange looking chicken cacciatore  for him, but he didn't complain so that's a plus.
I wanted him to order the sundae, because who can resist bacon sprinkles? But no.
He did however ask me for my phone after he went into the men's room.
I didn't really like where that was going….. but he only came back with this:
A funny poster about brewing beer that was over the urinal.
Bless his little heart, he likes to share.