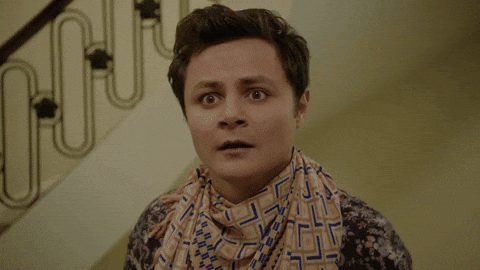 Calm down. No one's going Postal….
But we are going to Ben and Jerry's for ice cream!
Nestled on a hillside in Waterbury, Vermont….. it's the must stop tourist attraction that we've managed to avoid for years.
You enter through a forest of metal trees.
Follow the signs…
And find yourself in a cow filled world.
They're on tee shirts in the gift store…
On the vintage Ben and Jerry's bus…
Basically, everywhere you look.
I could, but how about a blurry shot of that rare genetic mutation… the clucking cow?
Having a few minutes to kill before the tour, the husband found an exhibit of antique ice cream scoops.
Some of which were kind of interesting.
Our tour guide was young and enthusiastic….
But you would be too if you took home 3 free pints of ice cream every day.
We were herded into a cow filled room (herded, get it?) and shown a cow filled film about the company's origin.
When the tour commenced, I was told absolutely no pictures…
And a little part of me died.
We were given free samples, which I couldn't photograph.
I know, but I did manage to bootleg this shot of their secret new flavor..
The tour included a history of the company's charitable works and environmental programs…
Because you see, they were basically hippies who made good and had a strong commitment to social justice. If you're interested, read this.
I admit to being disappointed that the company is no longer is privately owned, and was sold to Unilever (who make Breyers and Good Humor) for $326 million back in 2000.  Ben and Jerry are still on the board of directors however,  with 7.5% of profits going to the charitable foundation.
The tour ended with the wall of fame….
And the top ten flavors.
Mine came in #2..