If you don't spend countless hours staring out the window with camera in hand to see if a new bird has shown up at the horrendously expensive buffet of seeds, nuts and suet you arrange on what used to be your laundry pole?
Feel free to skip this post.
But birders will get it.
The other day I spotted a Red Bellied Woodpecker. They used to be relatively rare in Maine and all the field guides say they shouldn't come any farther north than Massachusetts… yet here they are.
Trying to get an unobstructed shot of one proved a bit more difficult.
Juvenile starlings are notorious photo bombers.
Almost…
Finally.
An even rarer spotting was this Scarlet Tanager.
They're usually forest dwellers and our place is pretty open.
So I was tickled pink when this little beauty showed up.
Or red, as the case may be.
That's the wonderful thing about bird watching, you never know what you'll see.
By now our Baltimore Orioles are usually long gone, but this year I bought a feeder that houses grape jelly so they seem to be sticking around.
These two made me laugh.
They seemed to be squaring off for an orange eating contest.
Granted it doesn't provide the same excitement of hot dog eating contests…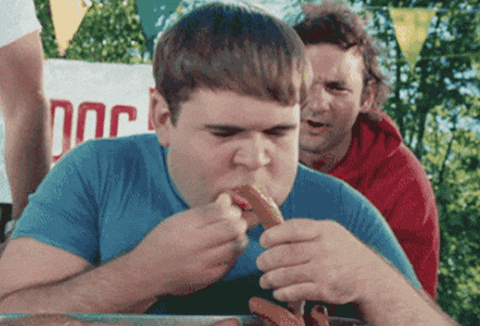 But there's also less chance of projectile vomit…
So that's a plus.
Bird watching… there's never a dull moment.
Alright, I lie. There are plenty of excruciatingly dull moments, but when something special does happen?
You smile.