I used to be one of those blissfully happy women who never worried about their weight.
I've never been rail thin mind you, but I was a fit child, a coltish pre teen, a slim teenager and a curves in the right places adult. I wore whatever was in fashion and if I don't mind saying so…. rocked it.
Then I turned 30 and gained 10 pounds. No biggie, I'm short but I could carry it.
I turned 40 and gained another 10 pounds.  Hmm… had to rethink those crop tops and short skirts, but okay.
When I turned 50? Only 5 more pounds… I figured I'd reached my leveling off point.
Then…. after a medical issue made a full abdominal hysterectomy necessary and I was thrown into menopause? I gained another 15 pounds. That put me in the "Hooray! Long loose tops are back in style and where do I find that Jane Russell 18 hour bra?" category.
WTF? My body was in revolt. Food was no longer my friend!
I dieted,  I cursed my womanly existence, I exercised, I swore like a longshoreman,  I drank the equivalent of friggin' Lake Erie in water every day and nothing happened. I tried low fat, low carb, I gave up every delicious thing I could think of (except alcohol because… well, geesh. I had to have a reason to live.) But still the weight didn't come off.
To be honest it drove me nearly crazy for 2 years until I said …..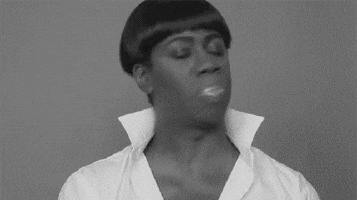 Life is too short to never eat bread. And cheese. And every other wonderfully fatty high calorie thing I'd been denying myself. (Come to momma cappuccino mousse trifle… I've missed you!)  If my body wanted to be  round,  voluptuous,  larger than it was, then who was I to argue.
So I bought bigger pants. Hell, I have bunions and had to buy bigger shoes, so what…. it was another excuse to shop.
Yes, I miss thin. Not everyday mind you  (thank you yoga pants!)  but when I have an event like a wedding, or funeral, or horror of horrors… a class reunion where there are people I haven't seen in 20 years?  It drives me to drink.  No, I won't be unrecognizable from my former self, but I'm always conscious of the difference. And women are famous for beating themselves up about that. Men embrace their beer bellies and proudly pat them. Women try and squeeze their muffin tops into torture devices called Spanx.
Oh, well… such is life.  It took me a while, but I've learned to embrace the larger version of myself. I may not always love her, but I'm healthy and happy…. and in the end, isn't that much more important than squeezing into a smaller size?
And exercise? Okay, you got me.
It was never my strong suit.