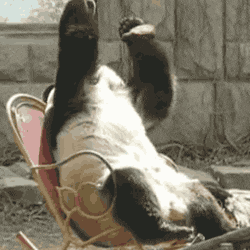 Yes, part 2.
Suck it up Buttercup and read on.
Chesterwood house, Daniel French's summer home in the Berkshires.
It's said that his wife found this piece of property, fell in love with the mountain view and told him… you must build me a house here.
So he did.
And added various porches to take full advantage.
Of course the porches had sculptures.
Which were pretty wonderful.
The interior of the house was comfortable…
And not overly grand.
With hand painted wall paper imported from France….
Giving the illusion of being surrounded by nature while indoors.
I might have just potted a fern, but whatever.
Most of the beds were tall…
Which could be a difficult climb after a few too many at dinner.
But you could always spend the night on one of the porches.
There were certainly enough of them.
Some more heavily decorated than others.
I think I could do morning tea here quite nicely …
Yes, I could.
Evening cocktails?
Cheers.
Chesterwood.