We kept climbing higher, getting closer to the falls.
But did you see it? In the bottom right hand corner…
I didn't when I was filming, but then I took a picture.
Yeah.
While I usually pick up litter we find along the way while hiking? This I left alone.
I don't even want to know….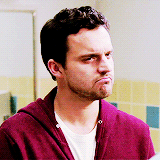 Up a thoughtfully constructed rock staircase.
Deeper into the woods.
I kept thinking, geesh. Are we ever going to reach the top?
One required sun drenched selfie later…
Past the well marked trail tree…
We finally saw the top.
The view was going to be killer… I knew it.
Anxiously preparing for the money shot, I found this –
Huh…?
You mean I hauled my (considerable) butt up this hill/ gorge/ mini mountain for bupkus?
WTF!
They even had the flags running across the falls themselves.
Damned right it is! Why would you open a waterfall up to the public, create a trail, install a bench, mark that trail very carefully so people could find the top….and then not let them access the top? It's criminal, I tell you.
Criminal.
And it made me wonder if the discarded unmentionables I saw down below were in way of protest.
I felt the same outrage! But not quite enough outrage to leave my own behind. There are limits… even for me.
Making our way back down to the parking lot I was so ticked off I didn't take any pictures, until I saw this…
And thought…