It's four evil letters…
And I dread it like the plague.
But the time has come.
Entering my 50's, a hysterectomy forced menopause and long Maine winters have taken their toll and I swear I don't even recognize myself when I look in a full length mirror.
Alright, yes.
Bacon may have had a little something to do with it.
So now I'm eating healthy.
I've given up bacon, and cheese, and gravy, and bread, and chocolate and all those other wonderful things that make life worth living.
I'm back on the treadmill for 2 or 3 sessions a day…. panting, sweating and realizing how horribly out of shape I've become.
And believe me when I say I hate exercising.
Really f*ing hate it.
I'm not enjoying the process, but I'm down 14 lbs…. and that's rewarding.
What's not rewarding is that I can't even tell the difference. And that, my friends…. is a sure sign you're overweight.
I mean damn… shouldn't my clothes be falling off me by now?
It's been 5 weeks of abstinence…
(No, not that kind. I'm overweight, not crazy.)
In a perfect world, I lose another 30lbs. But I'm not holding my breath for miracles. The older we get, the harder it is to lose and at this point I'd be happy to just fit into some of my old clothes again.
So, give a girl a hand. If you have any dieting tips or tricks? I'm all ears…
And hips.
And thighs.
And boobs…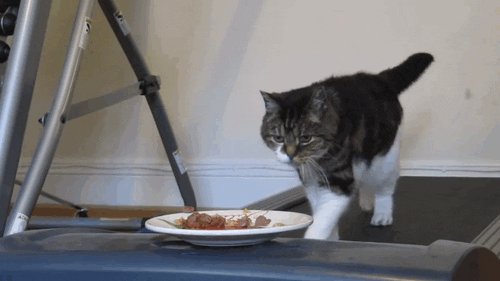 actual footage of my treadmill motivation