I read an article the other day that was so good it might need to become a blog series.
It's about words.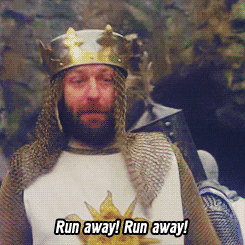 Stop that.
It's going to be great, I promise.
English is a funny language and apparently if it's not your mother tongue, can be quite difficult to learn. So naturally it stands to reason there would be a large collection of foreign words with no direct English equivalent.
Let's explore that.
Kummerspeck (German)
Excess weight gained from emotional overeating.
Literally, grief bacon.
Grief bacon!
It's official.
Kummerspeck is now my new favorite word.
Do I like bacon?
Indeed I do.
Do I care that it's bad for you?
No. I do not.
2. Mencolek (Indonesian)
The old trick where you tap someone lightly on the opposite shoulder from behind to fool them.
Where was this word when I was young?
I totally slayed Mencolek in the 3rd grade.
3. Seigneur-terraces (French)
Coffee shop dwellers who sit at tables a long time, but spend very little money.
Funny….
In English we just call them cheap.
4. Slampadato (Italian)
Someone addicted to the UV glow of tanning salons.
I think we all know one of those.
And finally..
5. Pana Po'o (Hawaiian)
To scratch your head in order to help you remember something you've forgotten.
This is not a technique I'm familiar with, but then I've never been to Hawaii so what do I know?
But to hell with remembering where the keys are …
This is pure brilliance.