Vacation posts are over,  (for a while anyway)  and it's time to get back to normal, every day nonsensical blogging.
I have lots of odd stuff to catch up on , so let's get started shall we?
#1…  A while back my husband had his truck restored and painted. It cost a fortune, but he loves that old thing. And apparently, so did this robin.
Every morning at 6:00am ( before the snow started to fly) this bird showed up.
He'd hop all over the bed, then the cab… pooping on everything.
He got very aggressive and fought off other birds if they flew too near.
The little bastard even dive bombed me a few times.
#2…  And speaking of dinosaurs,
We had a visiting Pterodactyl.
(Okay, it was a raven I named Roderick, but damn. He was big.)
*Note to self – buy bigger bird bath.*
#3… I saw this in a parking lot last month –
Clearly this man had been waiting for a long time.
#4… Good news!
I finally found a pair of jeans made for women who eat too many double stuff Oreos  real women.
#5… Remember the mutant brain abomination that was growing on my driveway?
Well, we came home from vacation….
And found it dead.
It had turned brown, shriveled up and fallen off it's stalk. Which was quite a relief.
Until I started thinking that maybe it just….
Hatched.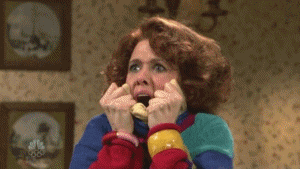 #6….. You know it's Christmas time in Maine when you see the holiday trees popping up everywhere.
Of course, in Maine… trees are made from lobster crates, so make of that what you will.
#7…. And speaking of Christmas, here's a great gift idea from Vermont.
Because nothing says I love you better than a wheel of cheese, and a cow you don't have to clean up after.
You're welcome.