Is it strange that one of my favorite parts of the Grand Canyon was the section where we couldn't see a damn thing?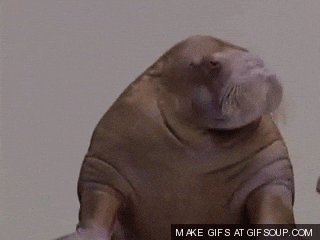 Our last stop was the Desert Watchtower, and by the time we got there at the end of the day….
Everything was touched by frozen fog.
It was like walking into a sub zero fairyland.
Misty.
Quiet.
And utterly enchanting.
But also cold AF.
Inside as well as out.
Seriously, you could see your breath in there.
Hello?
Large fireplace…
How about filling it with those overpriced books you're trying to sell in the gift shop and lighting those babies up?
Tourists be shivering!
As you can see, we couldn't see.
Anything.
The canyon is right there, outside the windows… but you'd never know it.
And thank you once again government shutdown for interfering with our vacation, we couldn't even climb to the top.
While the husband went outside to document some info on a plane crash…
I found a reflectoscope….
And more psychotic squirrel warnings.
Leaving the tower…
We walked back through the frozen fog…
And marveled.
At all the sugar coated flora..
Still freezing…
But glad to have experienced it.