As promised.
Yes, we're really doing this.
Chapter 1.
Having had many one sided chicken conversations, I was looking forward to this.
Chicken cheerleaders…
Who knew?
Apparently Animal Planet, who features them in the annual Puppy Bowl.
Though they do need to work on their pom pom skills a bit.
And here I thought the only variety of peeps worth noting came at Easter.
Tidbitting?
I love learning new words.
While I've had various roosters chase me over the years, I never once thought to challenge them to a dance off.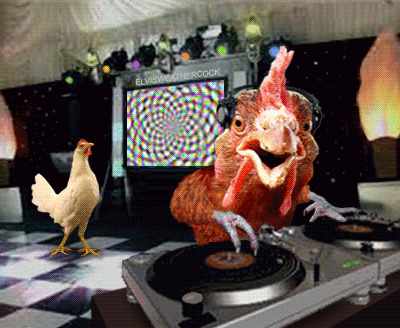 But clearly,  they've got moves.
So it's official… my spirit animal is a chicken.
I love to sunbathe as well.
*Note to self – do not Google sunbathing chicken or you will find one on the menu of a restaurant in Japan, complete with dipping sauce and white bread beach chair.*
This is educational stuff!
So the next time you hear a chicken say Buh-dup?
I expect you to politely return the greeting…. with a silent prayer of thanks to me for the translation.
Why yes.
Yes, I am.