He really can't.
Remember when I blogged about the husband's new toy not fitting in our old barn/shed?
It looked something like this:
I was right…
And apparently that didn't sit well with the other half so he did a little remodeling.
This is our old shed/barn that needs to be torn down.
Years ago, it housed a horse.
Now?
It's a pile of rotted wood.
How rotted?
Really rotted.
It's an eyesore that drives me nuts every single day.
The fact that it's still standing defies all logic.
I've come to the conclusion that it hates me…
And refuses to die just because it can.
But back to the tractor.
The husband figured if he could straighten out a door…
He could get it inside.
Which he did, but not far enough inside due to that pesky center pole.
You know the one…
It holds up the rotted roof?
Yeah.
We don't need that.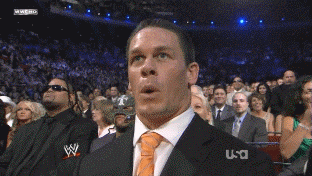 Mission accomplished.
He proved me wrong… and got the tractor in the shed.
How long there will be a roof over it is anyone's guess.