.
(Title should be sung to Lesley Gore's 'It's My Party' melody for full effect)
This is a scraggly flowering plum tree my husband transplanted to our backyard a few years ago.
.
.
It's hanging on to life but isn't nearly as full as it used to be…. so when I saw a brown tail moth web in one of the top branches, I carefully gloved up, cut it out and burned it.
If you've never heard of these evil little bastards, read on…
The browntail moth caterpillar has tiny poisonous hairs that cause dermatitis similar to poison ivy on sensitive individuals. People may develop dermatitis from direct contact with the caterpillar or indirectly from contact with airborne hairs. The hairs become airborne from either being dislodged from the living or dead caterpillar or they come from cast skins with the caterpillar molts. Most people affected by the hairs develop a localized rash that will last for a few hours up to several days but on some sensitive individuals the rash can be severe and last for several weeks. The rash results from both a chemical reaction to a toxin in the hairs and a physical irritation as the barbed hairs become embedded in the skin. Respiratory distress from inhaling the hairs can be serious.
The browntail moth is an invasive species found only on the coast of Maine and Cape Cod. This moth is an insect of both forest and human health concern.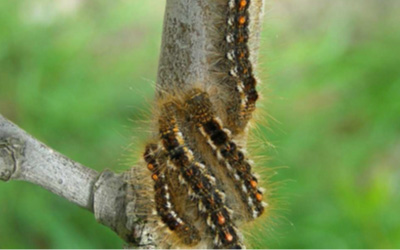 .
I've been covered in their nasty rash multiple times before and trust me it is beyond awful. No amount of Benadryl, cortisone or calamine lotion can relieve the itch. It's like poison ivy times 50 and makes you want to take a wire brush to your skin. So when I say I was careful? I was careful. Gloves, long sleeves, limited contact and proper destruction.
But still….
.
.
I got a mild dose and am completely miserable.
.
.
Both my arms, stomach and back are speckled with rash because once those little microscopic hairs find you and you take a shower? You'll gladly take sandpaper to every inch of your flesh.
.