I woke up the other morning to an eerie fog covered world.
And an even eerier bird covered telephone line.
They were gathering.
Quietly.
Too quietly.
And I thought,
Did I forget to fill the bird feeders?
Was the bird bath empty?
Were they here for revenge?
And then I saw that one.
There… on the left.
WTH?
It looked like a lobster..  and I knew I was doomed.
I couldn't sedate it, I haven't smoked weed since 1983!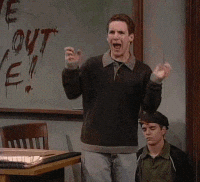 So I did what any self respecting Alfred Hitchcock fan would do.
I hid in the house until they dispersed.
And put bird seed on my shopping list because I'm not taking any chances.
And P.S….
Did you know there's a Bird's Halloween costume?
I might just need one of those to go grocery shopping.