Still strolling Duke of Gloucester Street, we found the apothecary shop and it's mistress in the middle of recounting some 18th century cures.
Trust me when I say you should be glad you weren't sick in the 18th century.
Many towns and villages didn't have doctors and these pseudo pharmacists were as close to modern medicine as many people could get.
There were some interesting drawings….
And a back room were the cures were administered. Though why that fellow in the corner needs a hat, I'm sure I don't know…
Next up was the reconstructed Capitol building.
The birthplace of American government if you will.
The flag flying at the entrance meant it was open for tours…
So we settled in to wait for the guide.
With the husband admiring the rather odd gutterless drainage system.
Which was really more of a moat.
If you're interested, the history of the Capitol is here.  I'll spare you the retelling and just post a few interior shots.
Local representatives met here, first to report to the crown….and then to form a new government.
The speaker had a throne… make of that what you will.
Here are the rooms our founding fathers formed the basis of the country we know today.
One can only imagine how they'd react to our current state of affairs.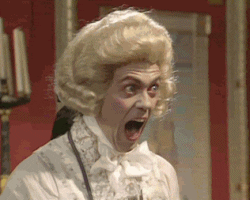 I'd say that's pretty close.
There was also a court where grievances and victims of crimes were given justice.
To me, the nicest part of the tour was when our guide proudly told us that he had helped officiate over the swearing in of 250 new American citizens on that day…. a 300 year old tradition lovingly continued on site.
Leaving the Capitol, we found the gaol, pronounced jail.
Which didn't look too bad at first.
Until I realized that wasn't the gaol.
The history of the gaol is here.
Many men and women were held here awaiting trial, and it doesn't look like that would have been too comfortable.
The cells reminded me of horse stables.
And yes…
That is what you think it is.
Minus Mr. Whipple and his Charmin.
(We'll visit the Public Hospital… read, lunatic asylum... another day)
The sound of that large door slamming shut?
Perfectly eerie.
The administration office was much nicer.
And it's natural wreaths, nicer still.
All it needed was…
The clip clop of the carriage horses hooves to remind me how we could have been traveling.
Bad husband.
Bad.