Aside from all the decorative items, the Dewitt had some pieces of historic interest as well.
Here's the father of our country casually leaning on a cannon. And if you look closely, you'll see this…
Yes, they even have George Washington's jewelry…. which had been lost for nearly two centuries. It was rediscovered in 1990, when the daughter-in-law of a Virginia Beach woman descended from Supreme Court Chief Justice John Marshall found it in her dead mother-in-law's jewelry box.
Just think… it could have been put in a yard sale. Or donated to Goodwill.
Damn. Another missed opportunity.
Continuing past the silver, there were vast collections of porcelain and pottery.
Complete with creepy ass vintage dolls.
If you invite this little chicka to a tea party?
She's going to nibble your fingers like biscuits.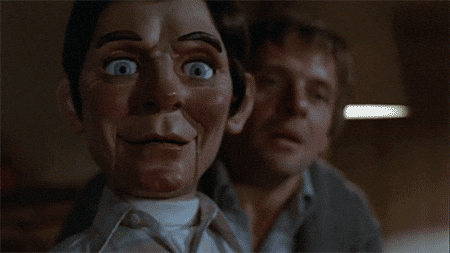 By the amount of tankers on display, there was some serious beer drinking going on in the 18th century.
Have I mentioned this place went on forever?
It was fabulous.
There was a section dedicated to indigenous art as well.
And these were quite special.
Even the husband was intrigued.
Each piece had a story.
But I'll just give you one example.
Two years?
Damn. That's dedication.
George showed up again, though in iron this time.
"Dumb" stoves?
I've cursed a few in my lifetime, but never knew they were actually a thing.
After George,  I knew I'd lost the husband.
Because this is his idea of heaven.
They weren't rusted, but these are just the sort thing he likes to fill our barn with.
( And if his were in good shape and displayed artfully like this? I wouldn't half mind.)
And because you know I can't pass up an opportunity, let's play Name That (not) Crap again.
What is it …. #1?
What is it… #2?